Birders are good at keeping lists. The lifelist comes first (obviously), then often also a national list and then there are a number of regional lists. Birds are excellent for keeping lists because their ability to fly always gives an element of surprise which make your list keep growing. For mammals there are also some fanatic listers, but that takes a whole different approach. For birds and mammals I also like to keep a list, but if you really want to be a serious competitor you need to pick either one of the two and completely aim your trip towards those species. For me however it's more about seeing very beautiful and attractive species. That's why seeing a Whale Shark was high on my list. The whale shark is the largest fish on the planet and a beautiful animal. So I definitely wanted to invest some time in that one, although it didn't count in the lists that I keep.
In June I suddenly had the opportunity to go abroad for two weeks. I was about to start a new job, so I still had a few weeks to spend at my old one. After some thought it seemed like a good idea to go to Mexico to swim with Whale Sharks. June is an excellent time to do that and there is a good connection between Brussels and Cancun which is also not that expensive. With only a month to prepare, I decided to book. For the Whale Sharks, my plan was to go with both a regular snorkeling trip and a freedive tour. The freedive tour would hopefully give me more time with the Whale Sharks. Once it was time to go, however, the weather forecast turned out to be bad. My freedive tour was cancelled.
So when I landed in Mexico I went scuba diving for the first day and the day after I went with a regular snorkeling trip for the Whale Shark. It was a awful trip with very high waves and rain. After we came back without Whale Sharks, I was done with that species for a while. It was time to go into the jungle! Among other things, I spent three days in the jungle at the archaeological site of Calakmul, but unfortunately that did not yield the desired special jungle species. The jungle continues to be hard work! Still, I had some wonderful sightings of the endangered Geoffroy's Spider Monkey.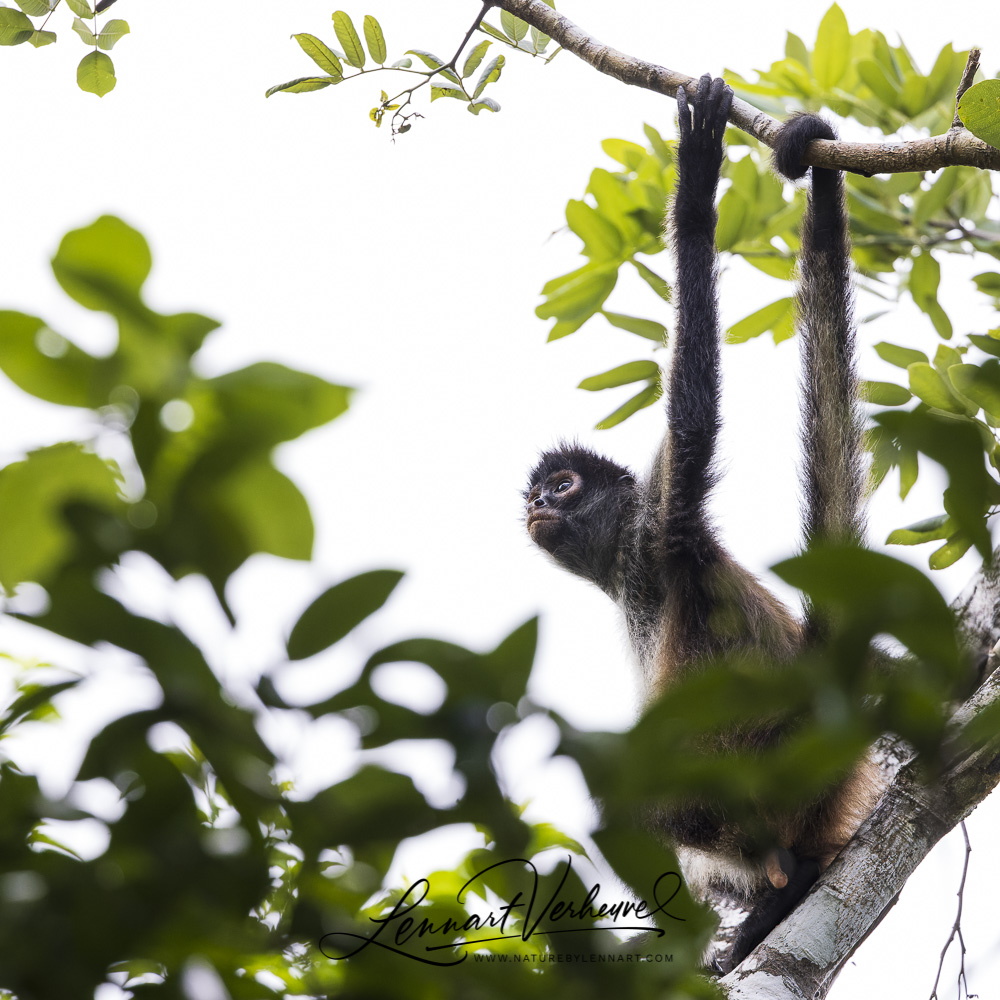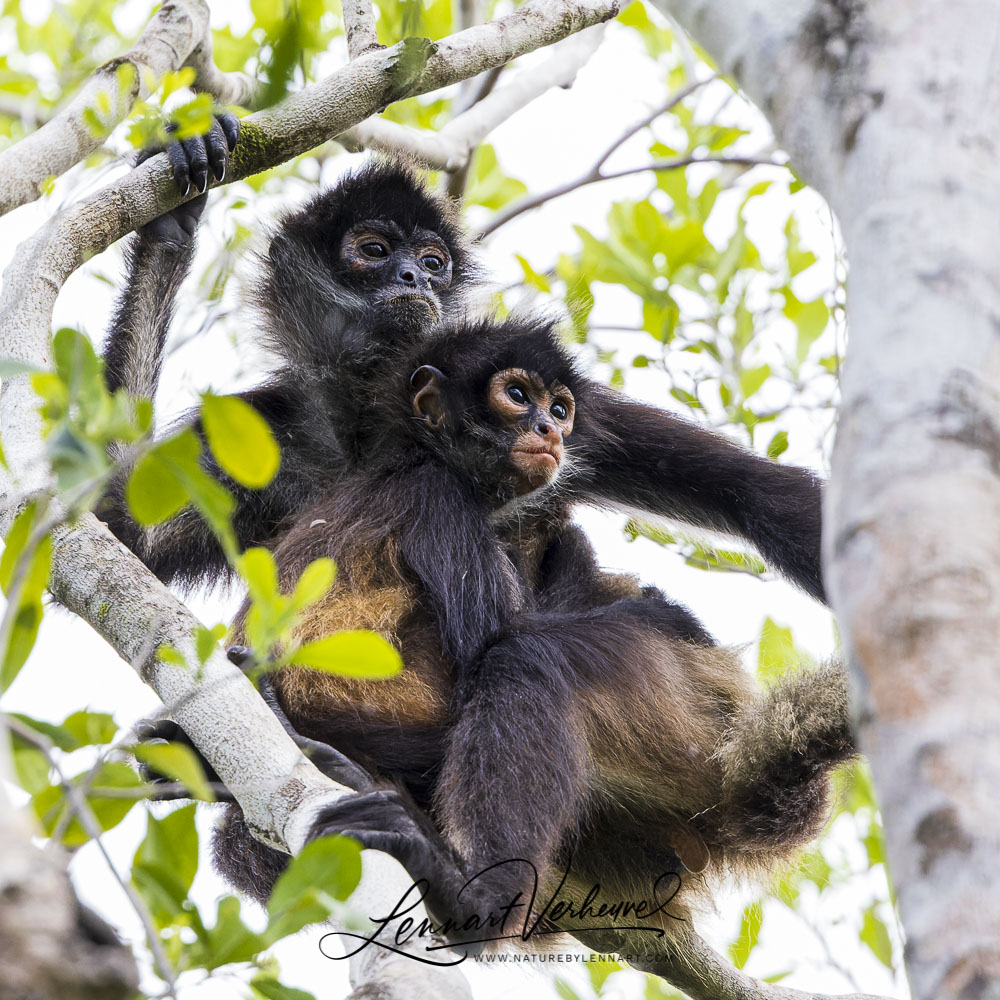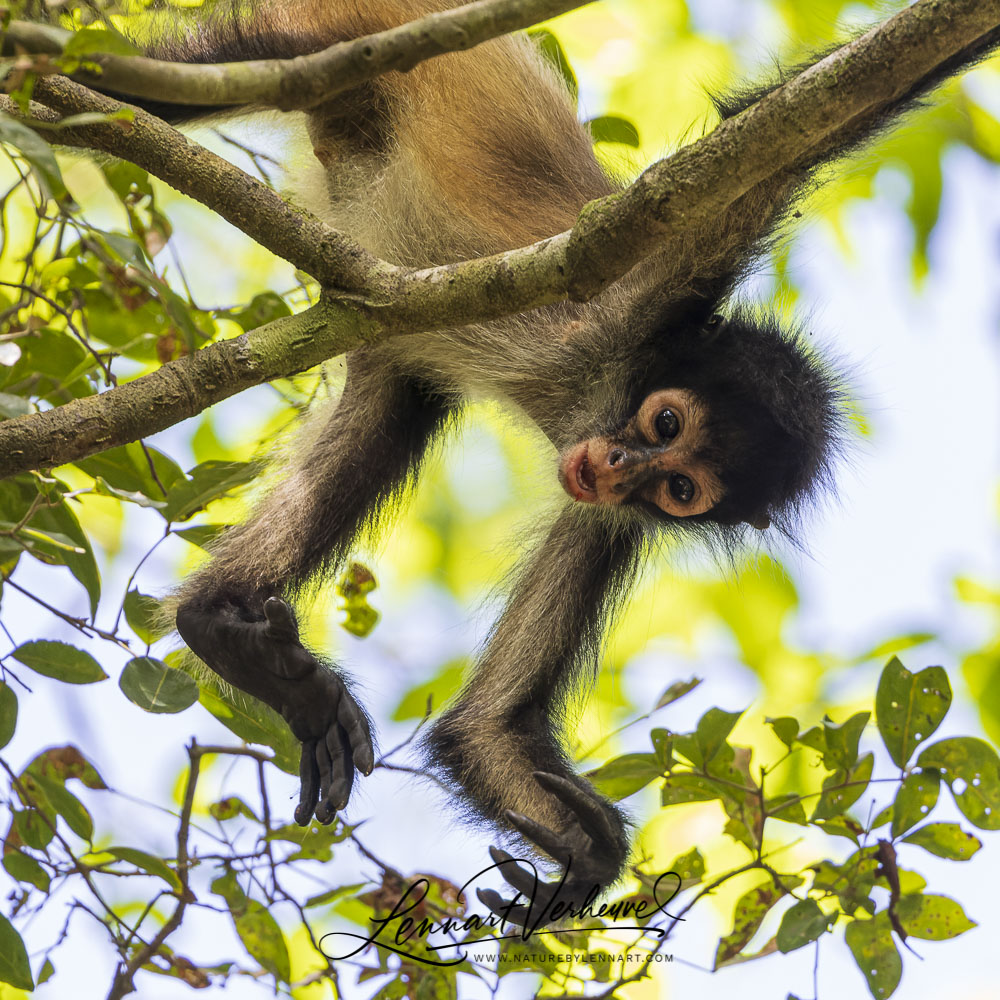 Geoffroy's Spider Monkey
Then I continued to the fishing village of Xcalak. I hadn't quite planned to come here, but I had it in the back of my head because I had heard good stories about it. It turned out to be a very nice place where I could make some beautiful dives. I was very happy to see a Caribbean Manatee. We also saw a beautiful Nurse Shark. My two weeks were almost over by then. When I left Xcalak, my two weeks in Mexico were almost over.
I had one full day left and I decided to make one last try for the Whale Shark on that day. Although I was not happy with the freedive company where I had booked my freedive tour, I had already paid them a deposit. Since I wasn't sure if I would get that money back easily, I thought it best to go with the regular snorkeling tour they also organized. My contact at that company tried to rip me off for a little extra, but luckily the person from the company they had hired to actually do the trips gave the extra money back when I had to pay cash.
I was picked up in Tulum at five o'clock in the morning. It took about an hour and a half before we were in Cancun. We got on the boat around eight o'clock. Then it's another hour and a half sailing. The sea was very smooth and the conditions were excellent. From a distance we saw a lot of boats. They had all come for the Whale Sharks. The way we could see them was that every time we saw a shark, two people could enter the water to swim with the shark. We were with ten people so we had five groups. I was number five… From the boat I could already see how big and beautiful the Whale Sharks are.
On my first jump, I was dropped close to the Whale Shark. I had to orient myself, but there he was! What a huge animal! I tried to keep up with him with my fins, but although the animal seemed to swim very calmly, it took all my effort. In addition, I was almost literally elbowing my way through all the other snorkelers. I still got a nice close-up. After five minutes I had to get out of the water again.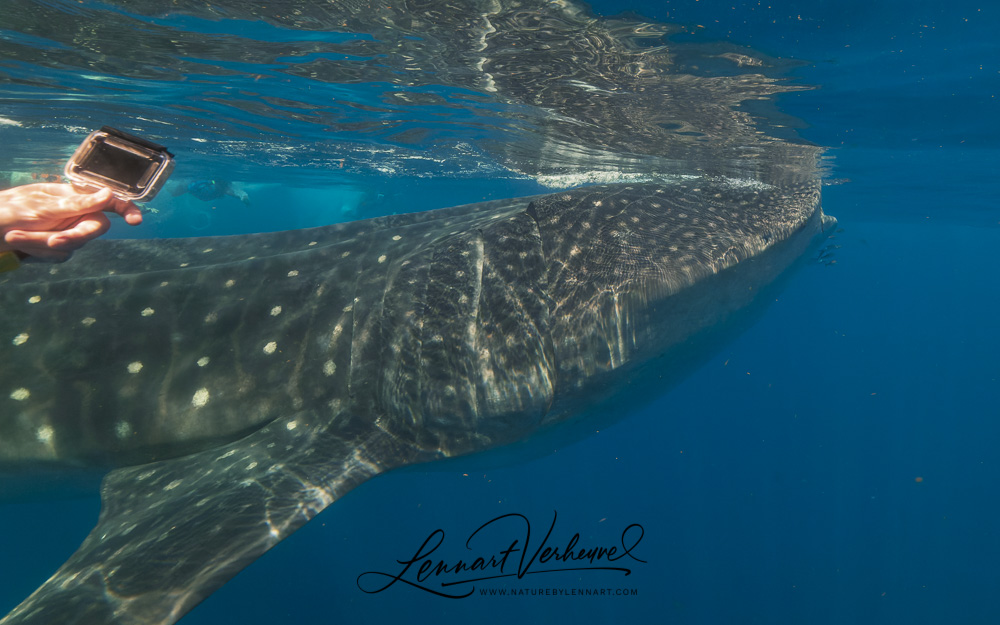 Whale Shark: yeah they get a lot of attention…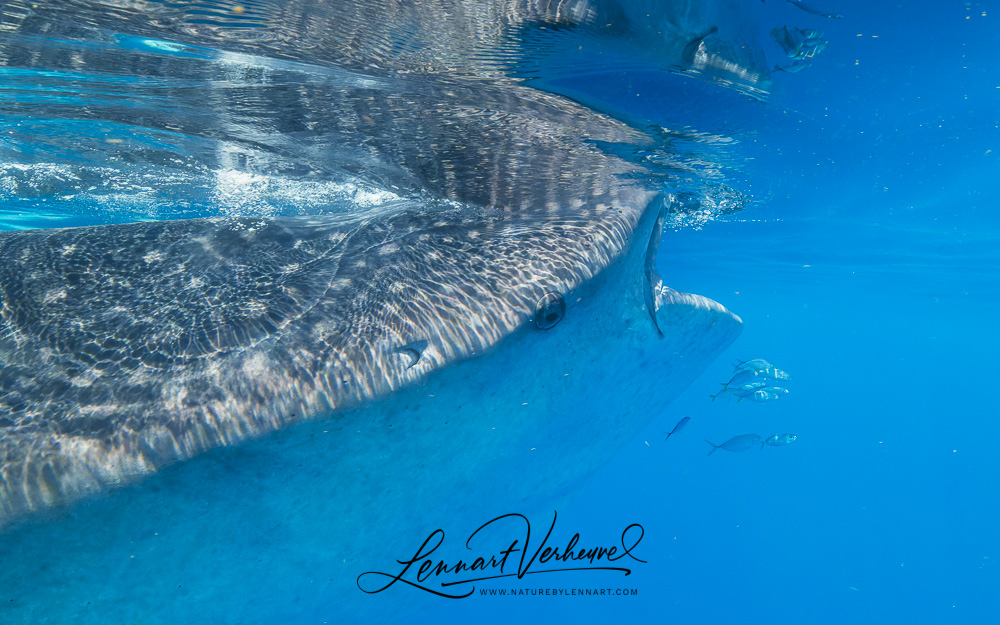 Whale Shark: close-up!
For my second 'jump' I was told to especially enjoy it because this was also the last time we would go into the water. That was a disappointment because it gave me very little time with the Whale Sharks! So I decided that I was going to get everything out of this last jump. The captain dropped me off perfectly and I saw the Whale Shark swimming right towards me and making a turn right past me. I managed to keep up with him for a while and I was able to take really nice pictures. I kept swimming for as long as I could, but eventually they pulled at my fin and I had to get out.
Still, I was left with a nice series of photos! I was very happy with that. On my last day I was able to see the animal I was going for!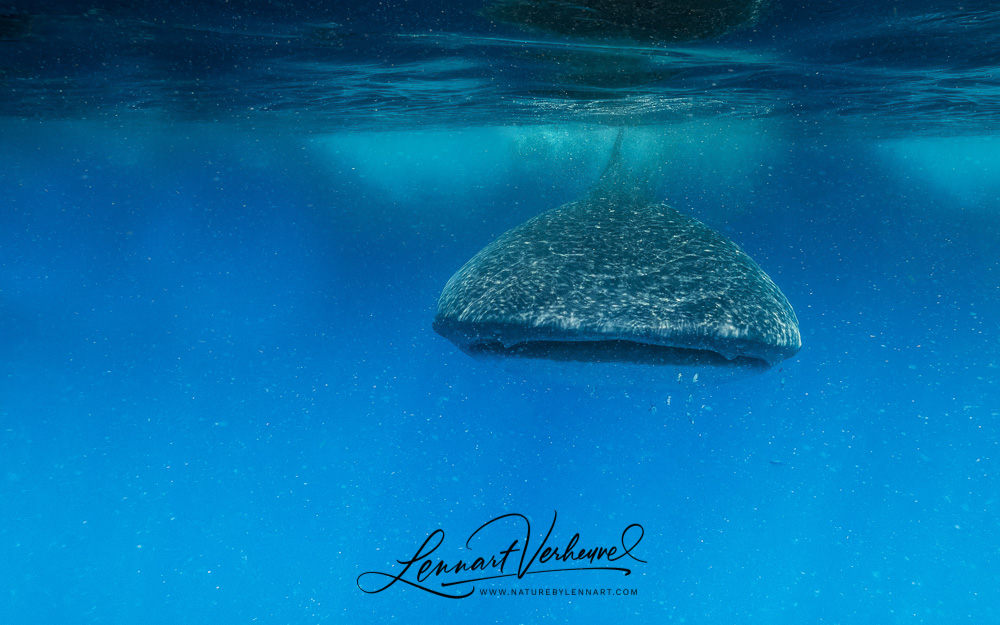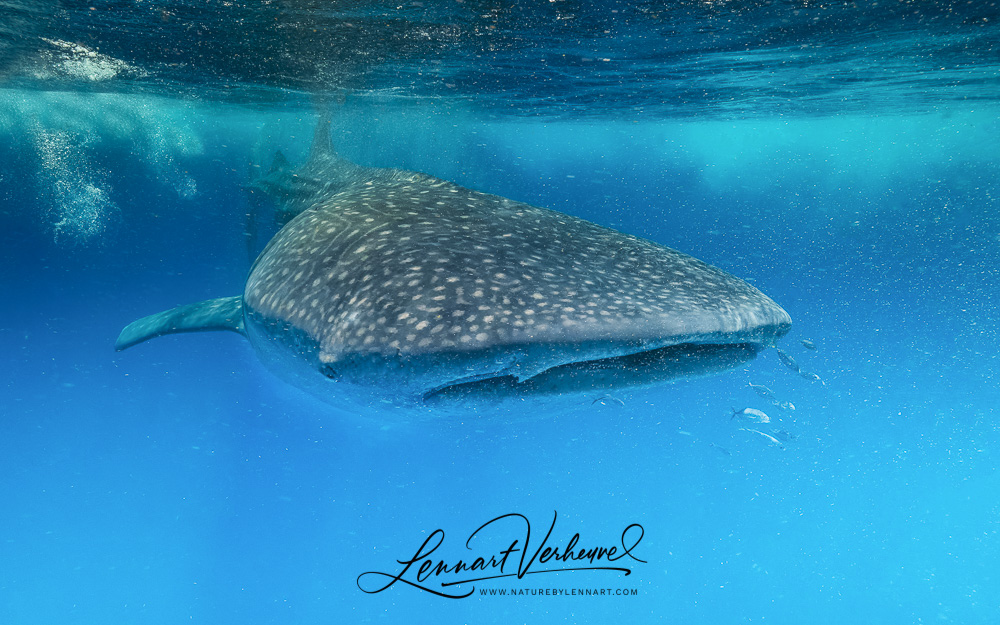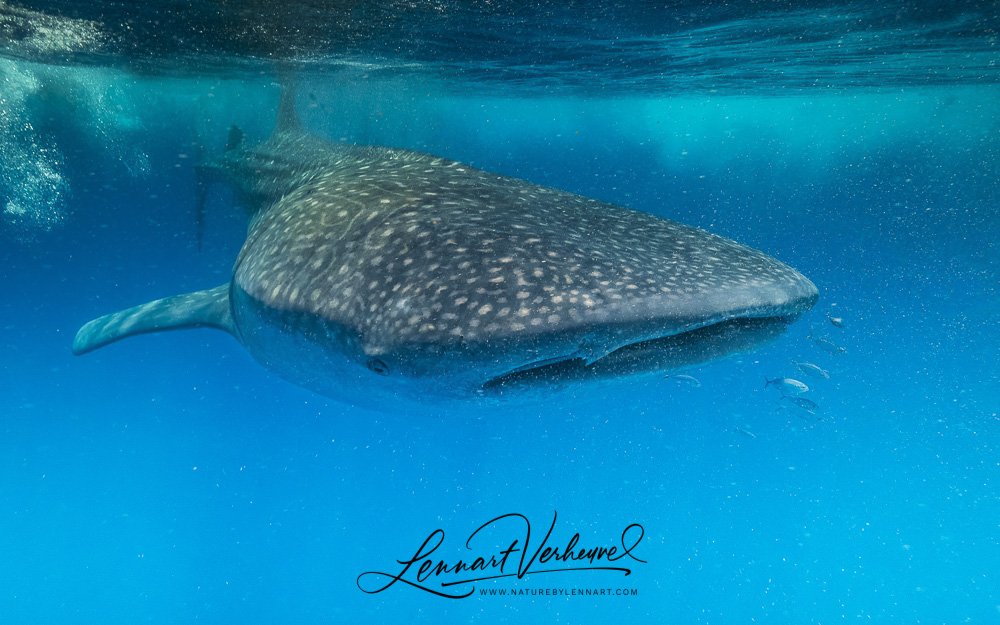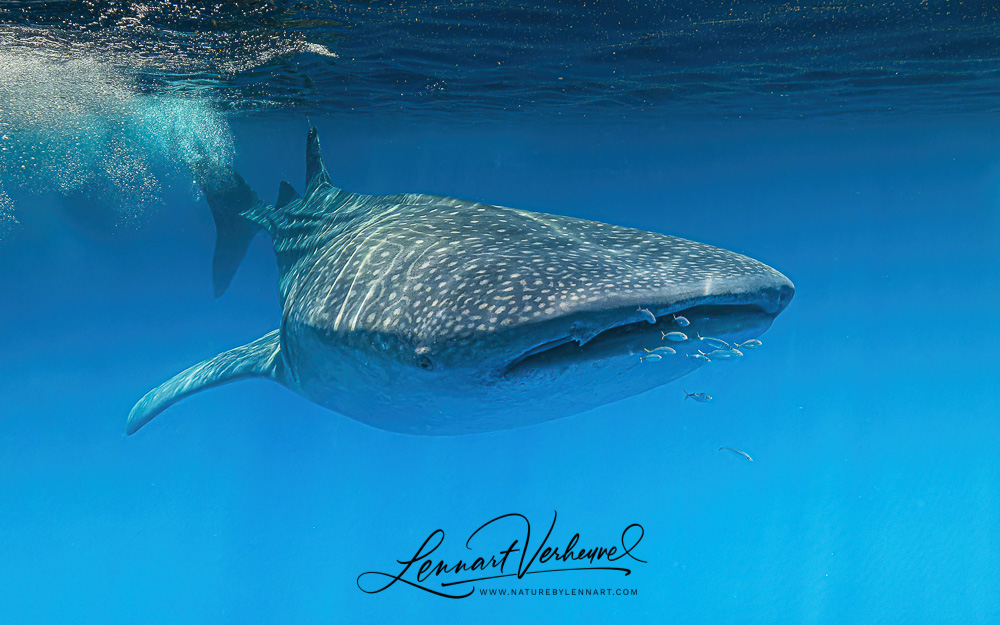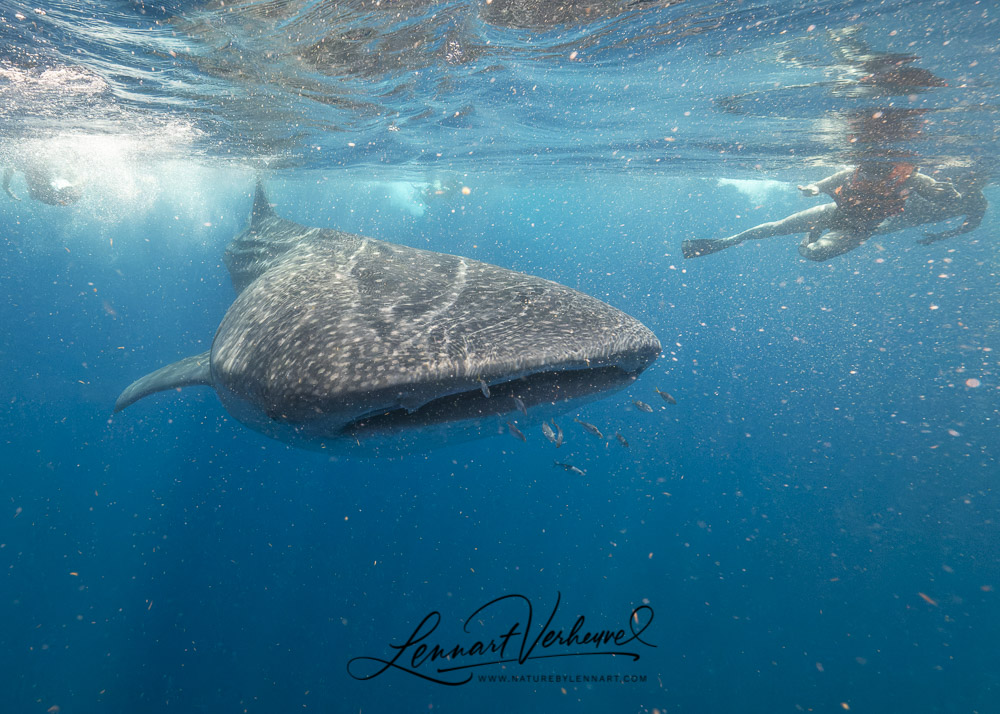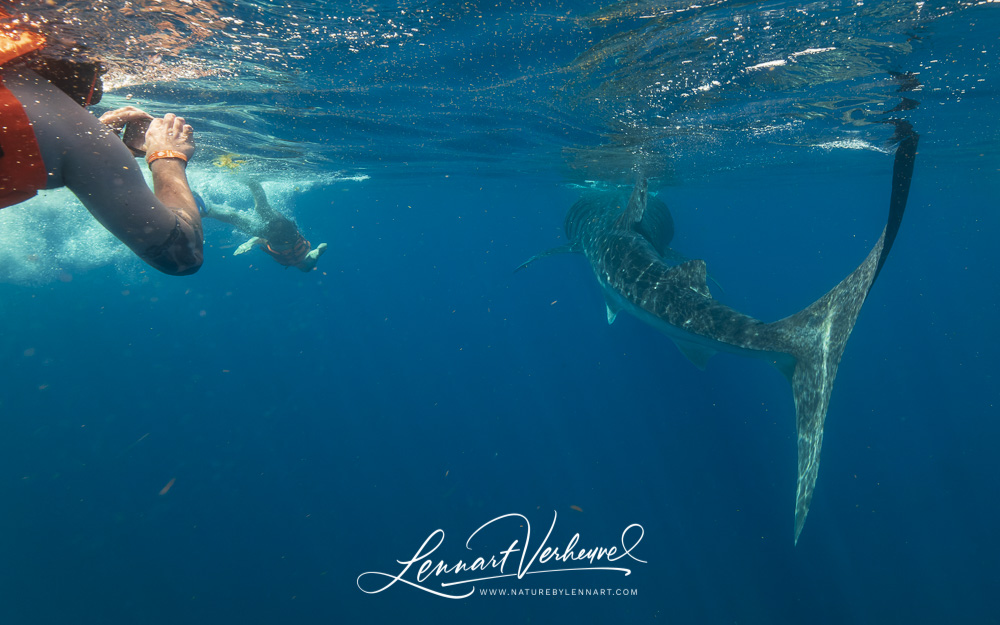 Whale Shark