Two years ago I already started planning this trip, I always wanted to do a long trip after I had finished my studies at university. During that time my thoughts about what I was going to do changed many times, but eventually there was a plan! My plan is to visit three countries: Chile, Bolivia and Peru. Of course one goal is to work on my cat list, but I also want to improve my Spanish and of course I've got my eye on a few birds. The trip started at the most southern airfield of Chile: Punta Arenas. The goal of this part of the trip is Torres del Paine: a park that is supposed to be the best place in the world to see Puma's.
Torres del Paine does not disappoint! When we arrive at the park we decide to first walk towards a lake and after that do some serious searching for Puma's. We are literally walking five minutes in the area and BOOM! There is a Puma at ten meters! I've still got my lunch in my hand because I definitely did not expect we would be lucky so quickly. The Puma doesn't seem very impressed by us. As quick as I can I get my camera from my belt and start shooting.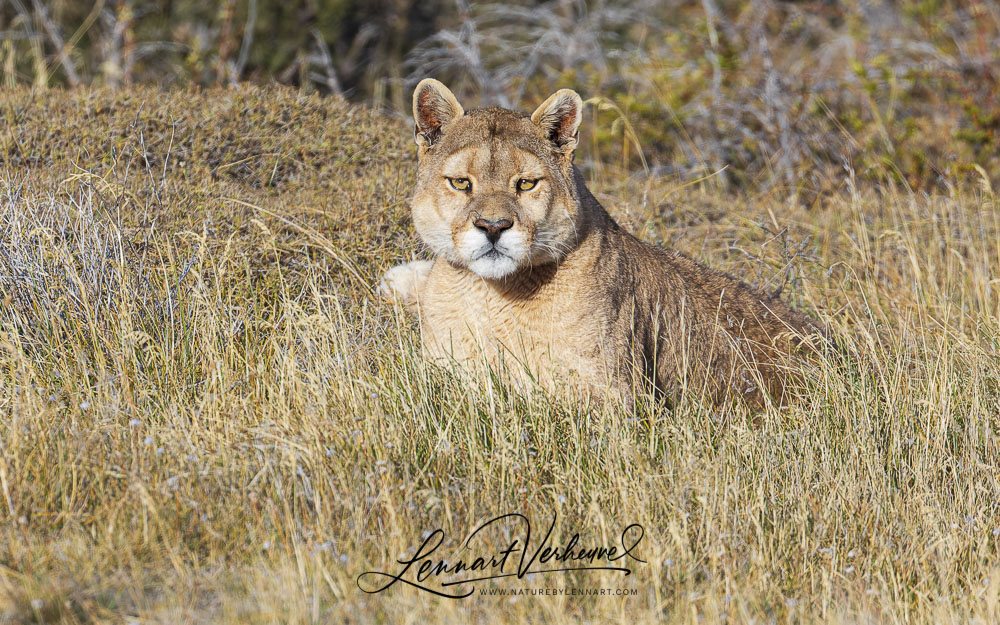 Puma
I'm only just in time because lazily the Puma arises: she does not appreciate our visit after all.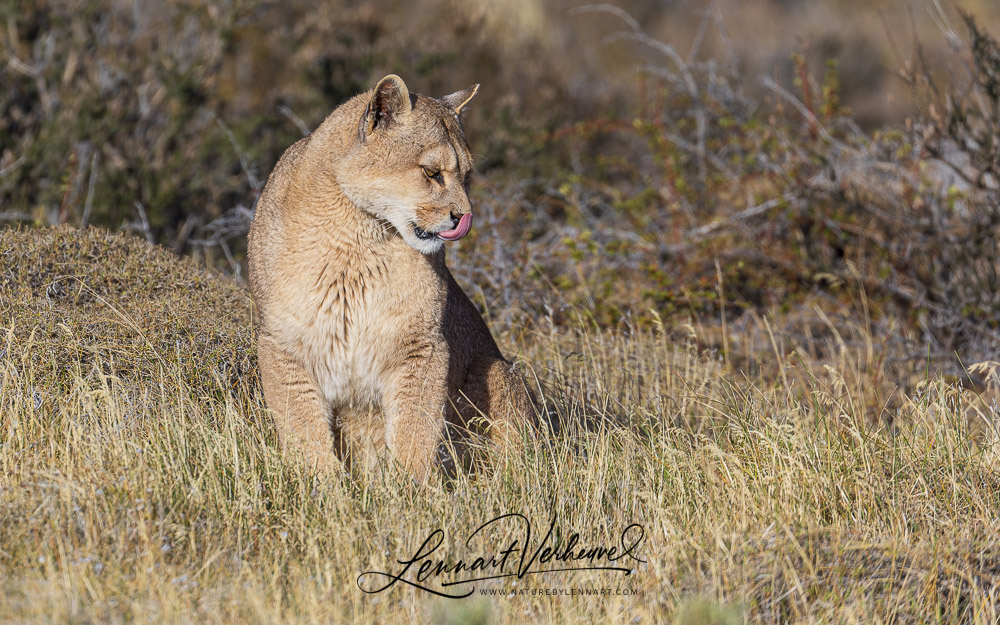 Puma
We follow the Puma as she walks in to bushes. We see her staring at us.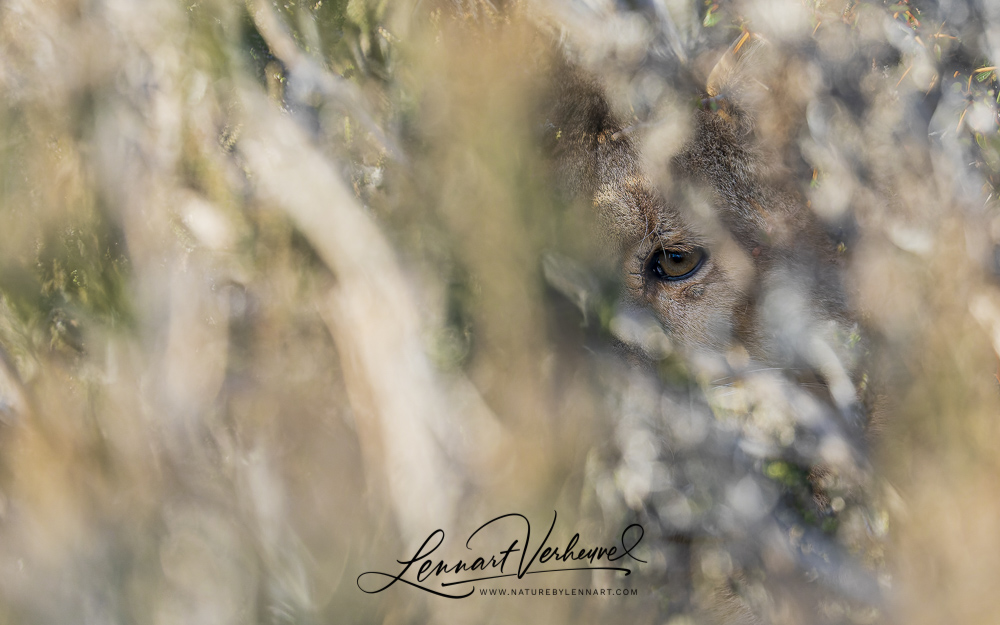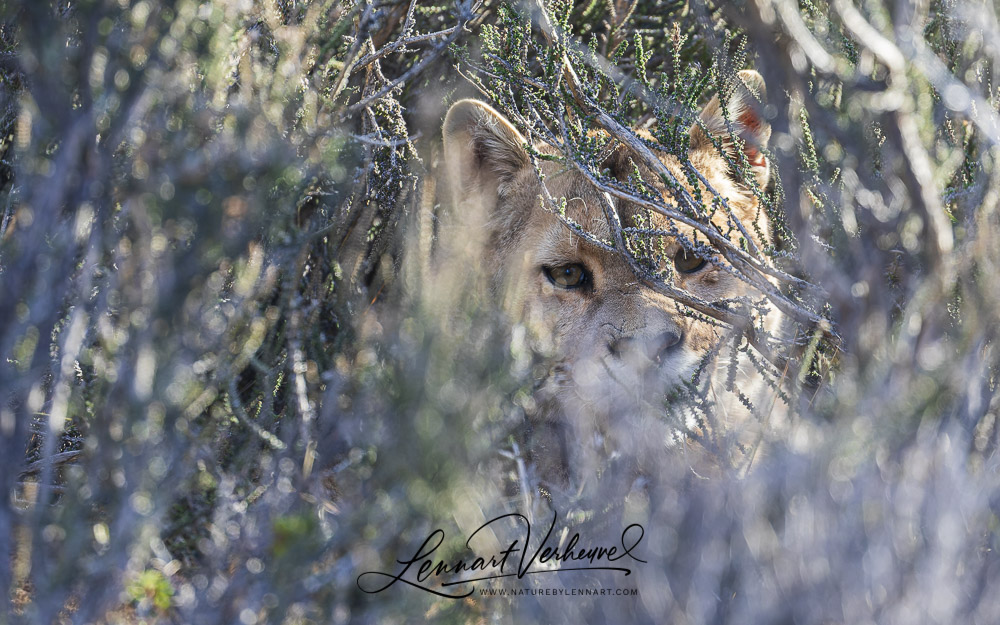 Puma
We quickly leave the Puma alone when she starts hiding herself from us.
We had about three days planned in Torres and it turns out we didn't need them! In the days after we have another great encounter with a different Puma. She gives away quite a show. She approaches us from afar and walks all the way up to us.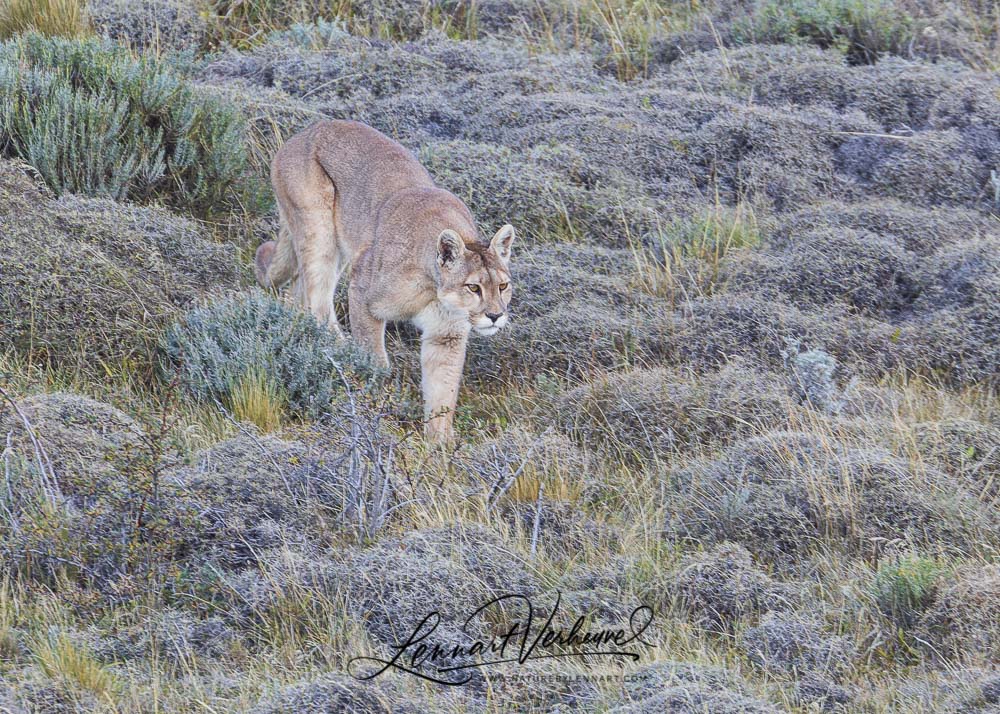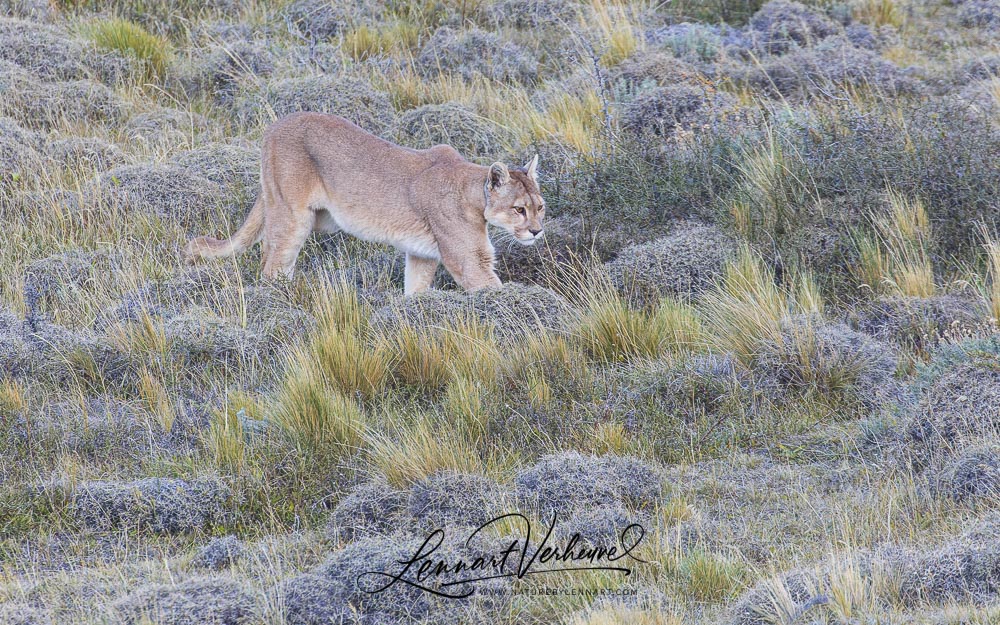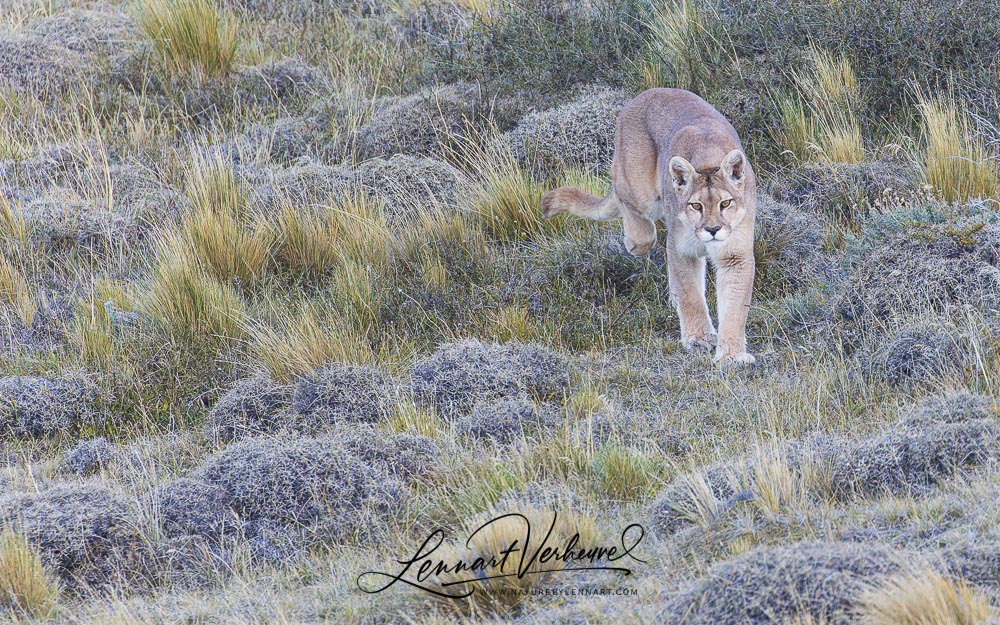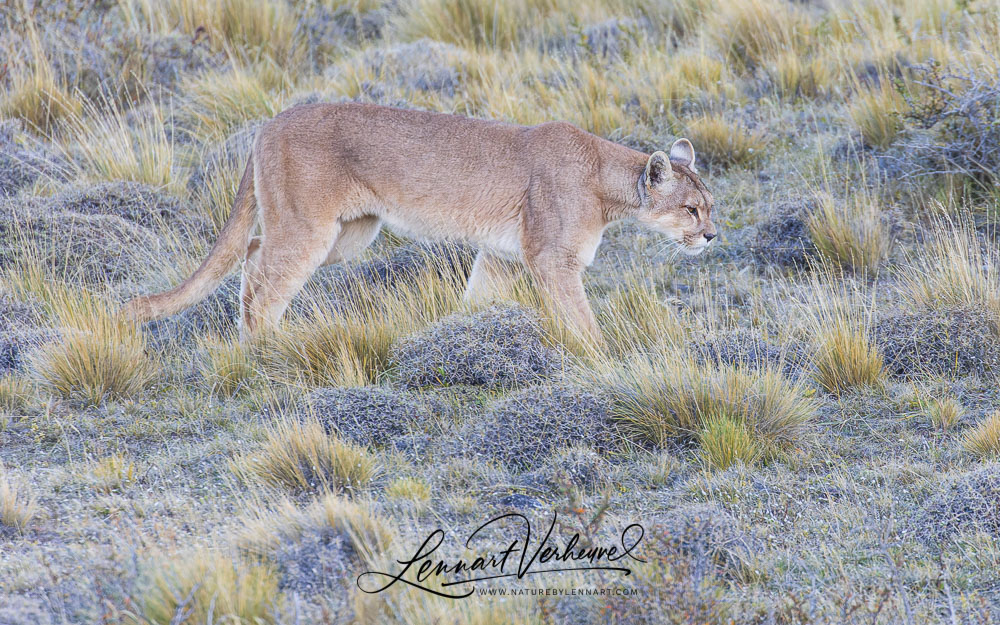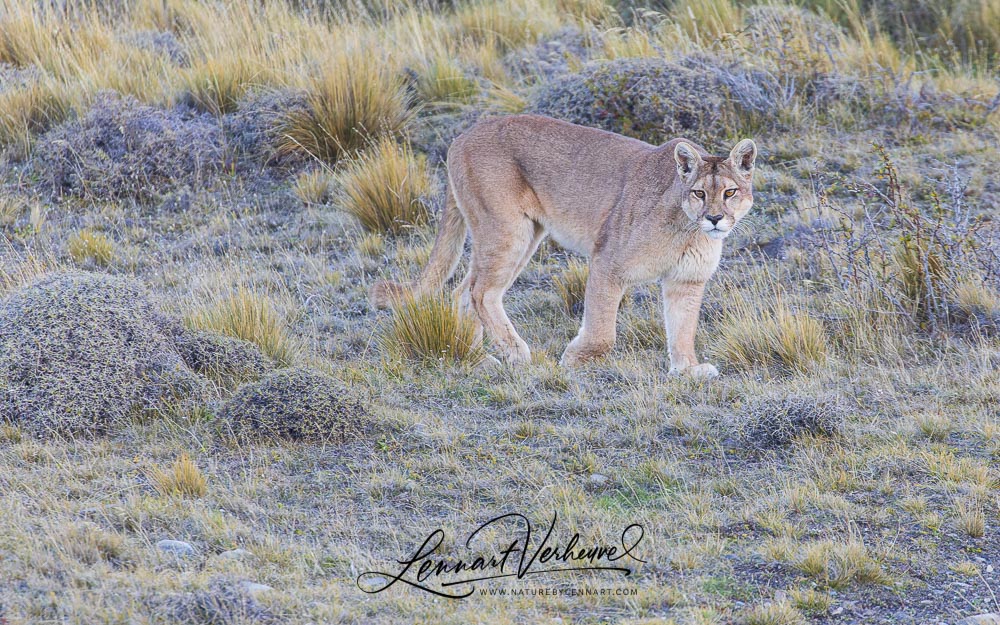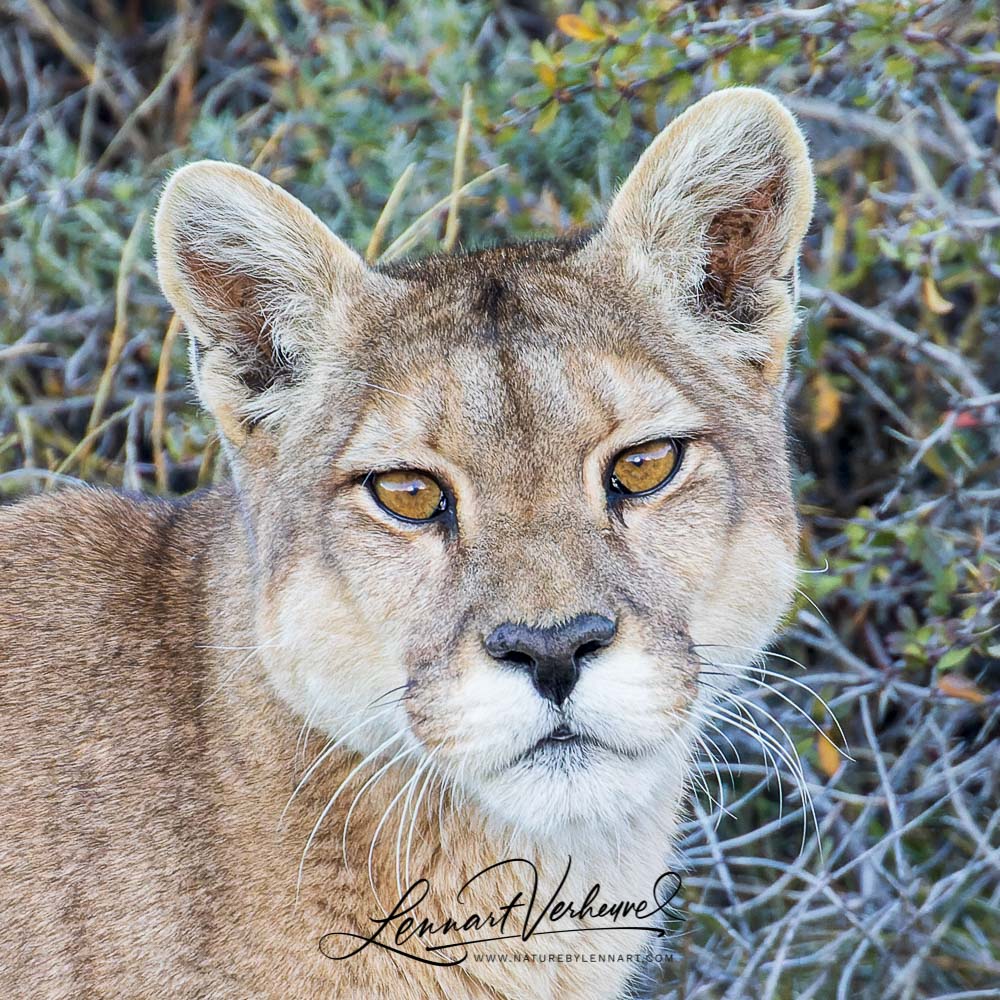 Puma
Then she crosses the road and walks in front of the snowy peaks of Torres del Paine. I'm especially happy with that picture.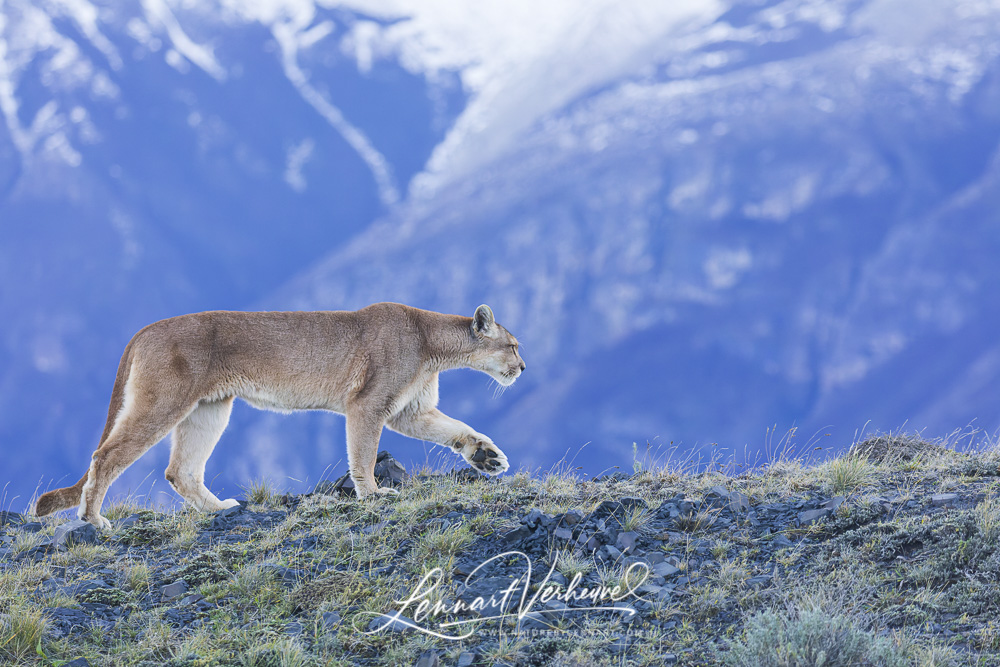 Puma
With a wink she disappears behind the hills.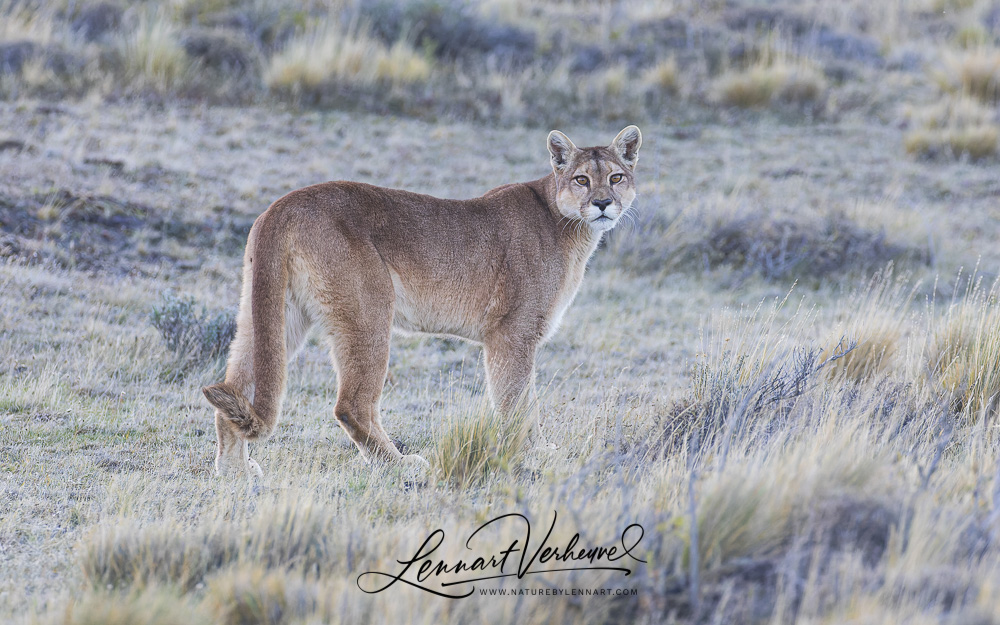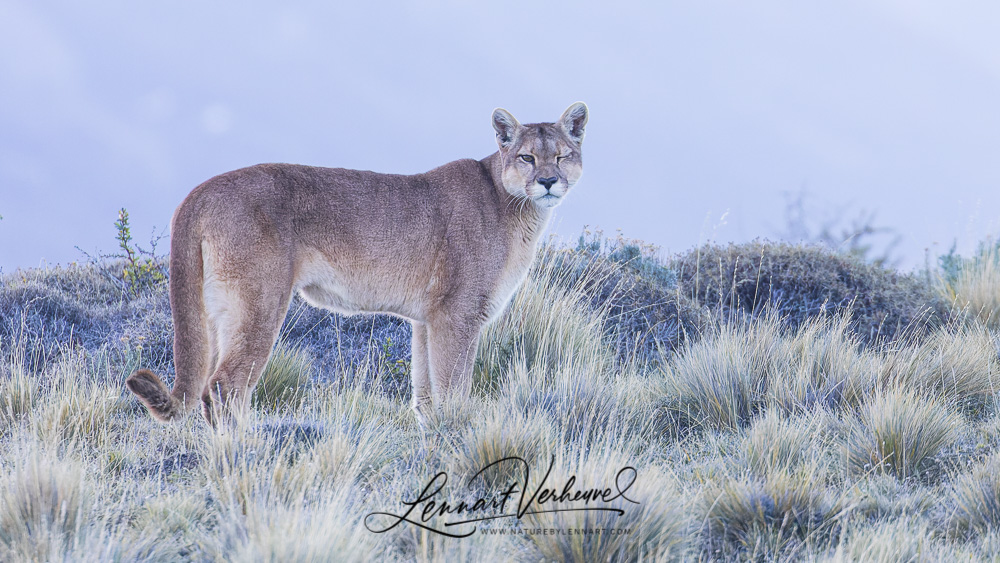 Puma
We still had the best ahead of us though… On the last day we effectively had only the morning to search. It doesn't take long before we find some Puma's but this time they are at a distance and we cannot come closer. We have seen a total of seven Puma's then: not bad for a few days of searching!
On our last drive through the park something very special happens. Suddenly we see two ears sticking out above a stone. That must be a Puma! We get out of the car and when we walk up a hill we gradually get a better view of the Puma. It turns out there are two of them! When we move even further up we see that there are actually three! They look like full-grown Puma's, but they are two young females and one young male. I know immediately what kind of photo I want so I quickly go to higher ground to get them all three as best as possible. When I'm in the correct position, I start taking pictures and I hope I've got the shot.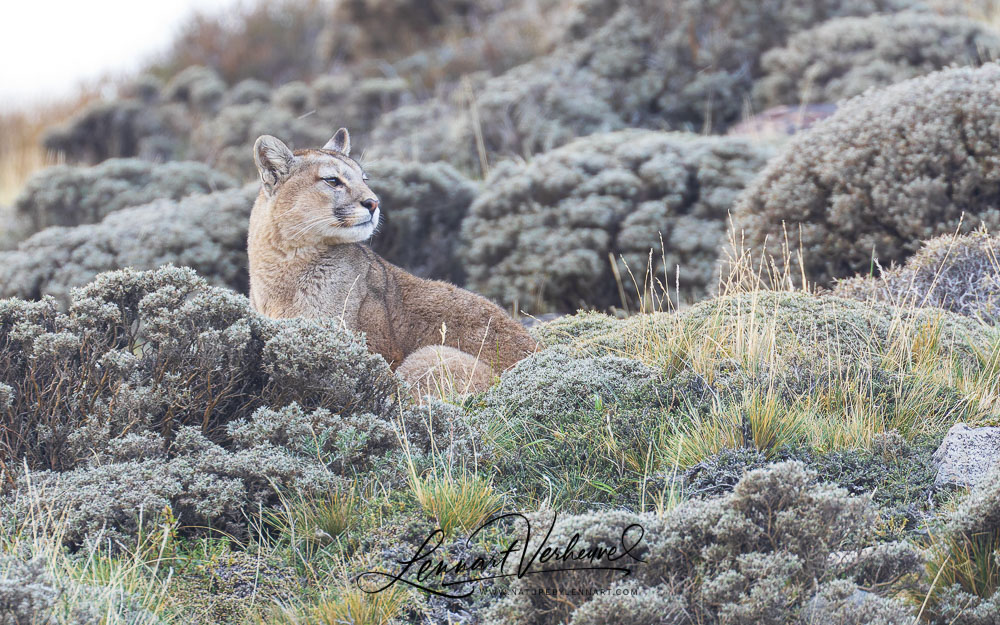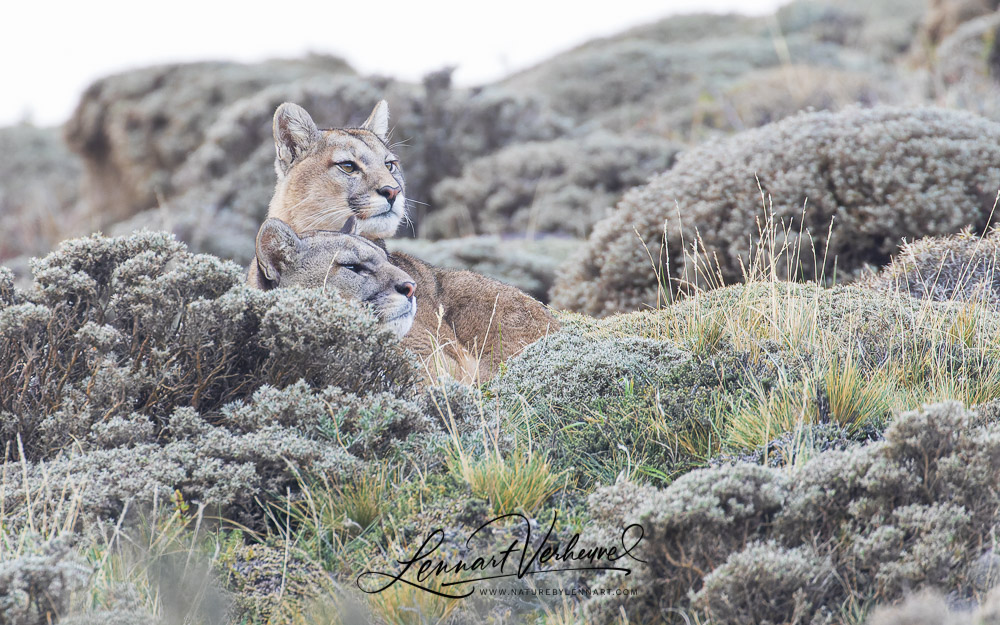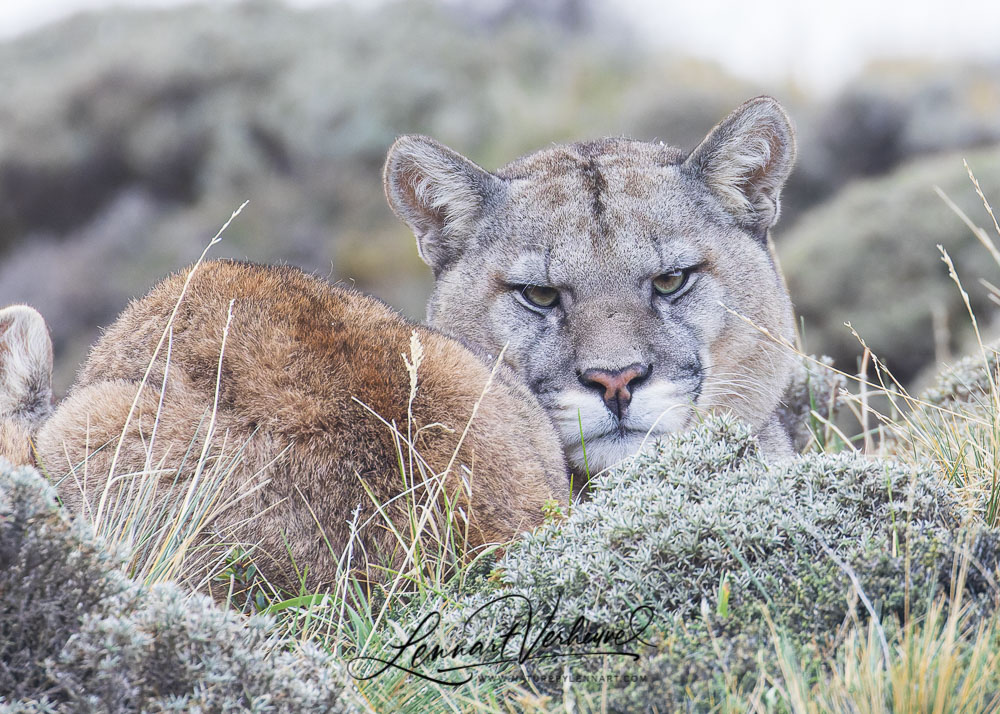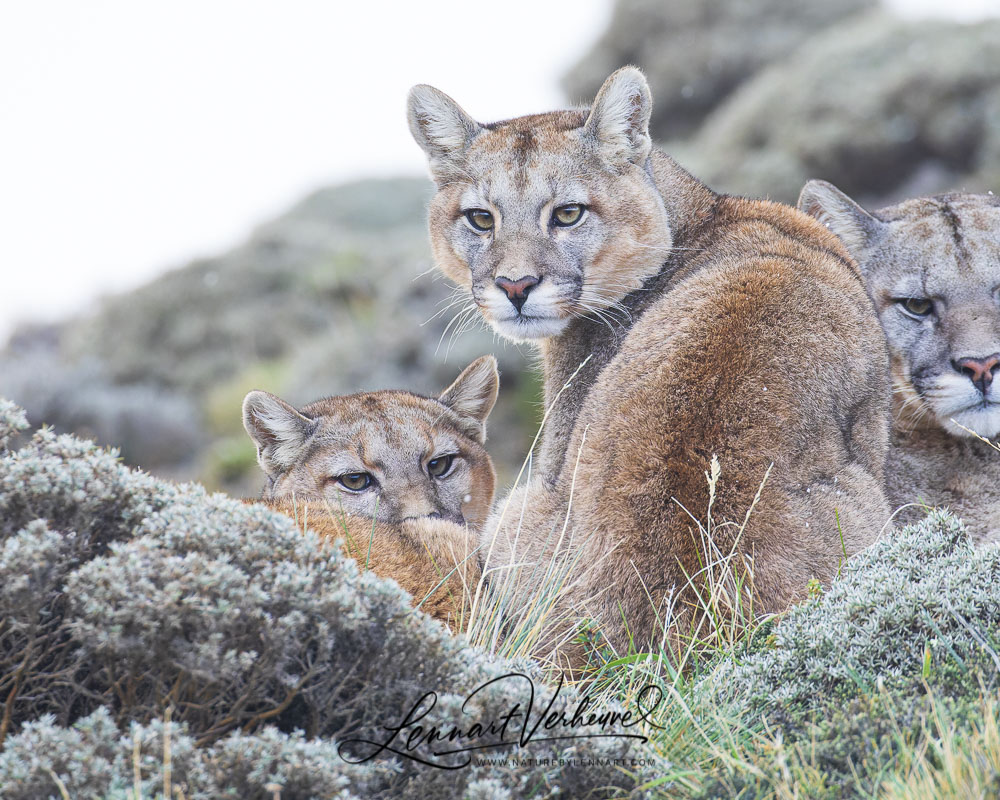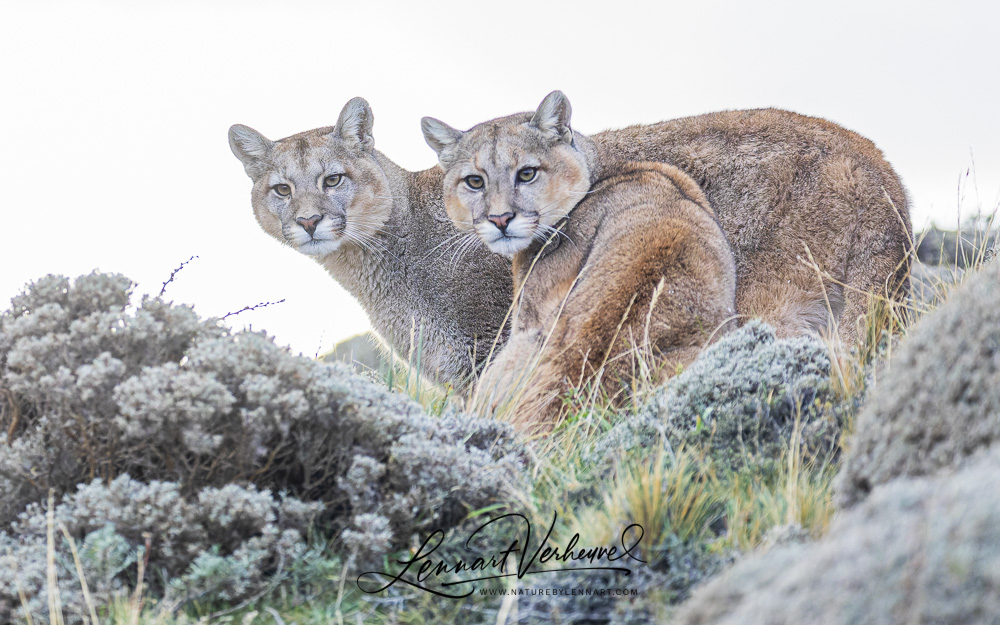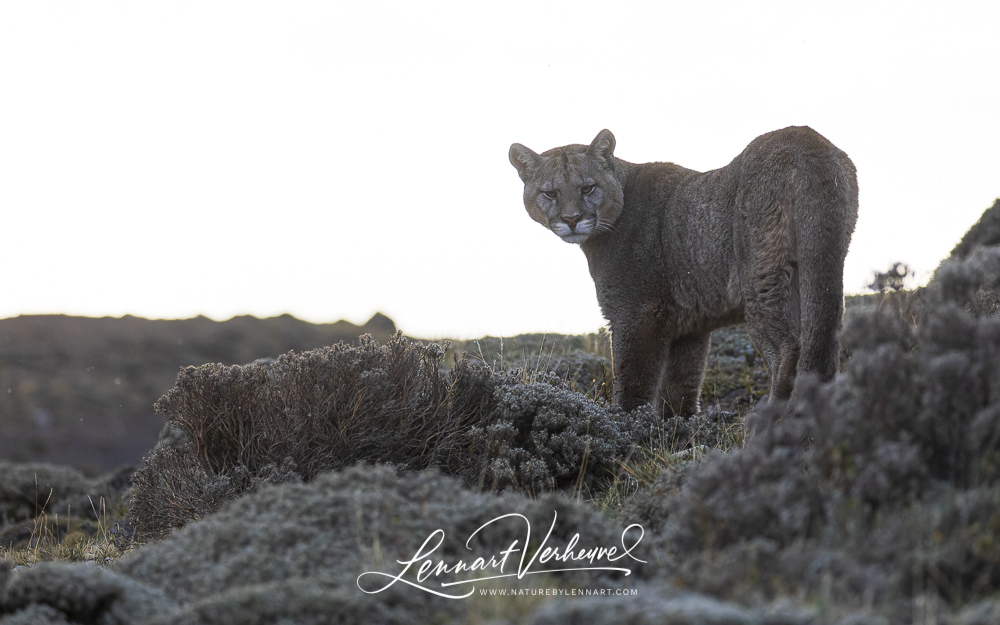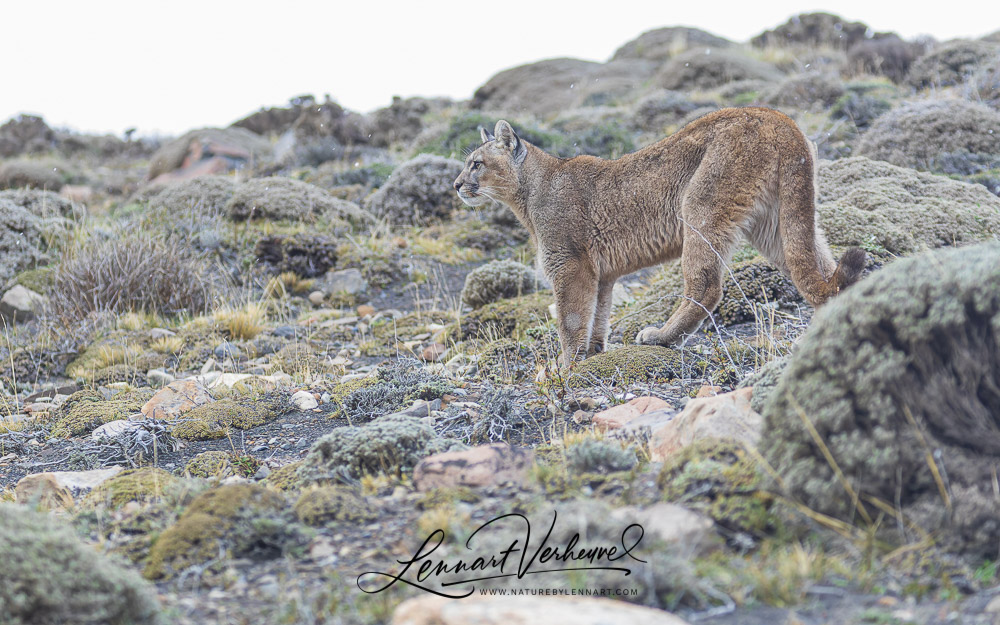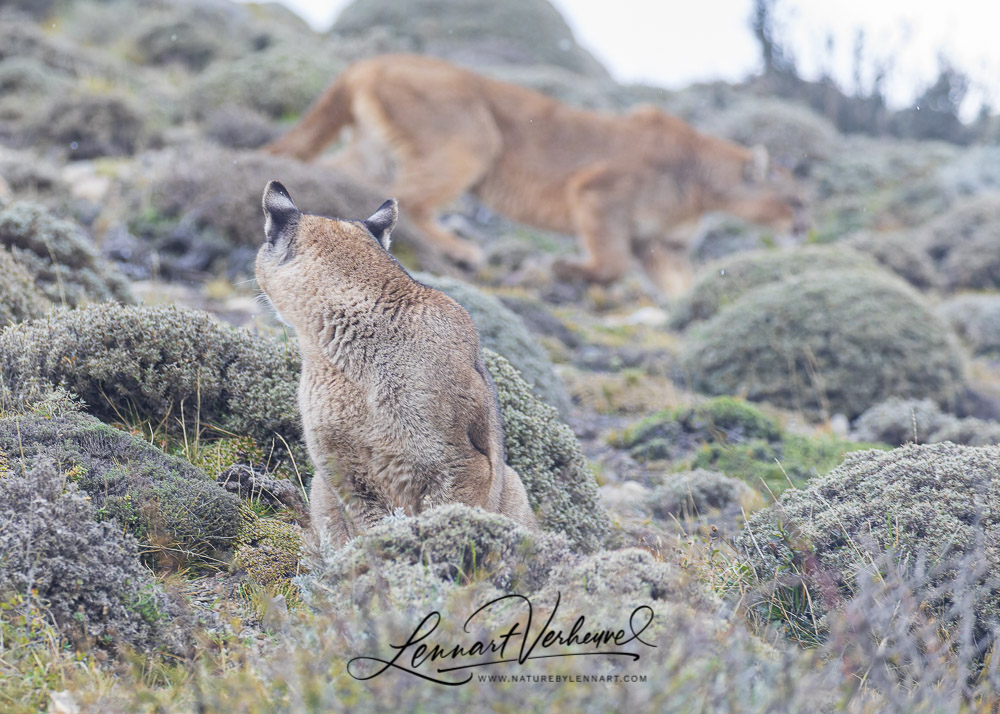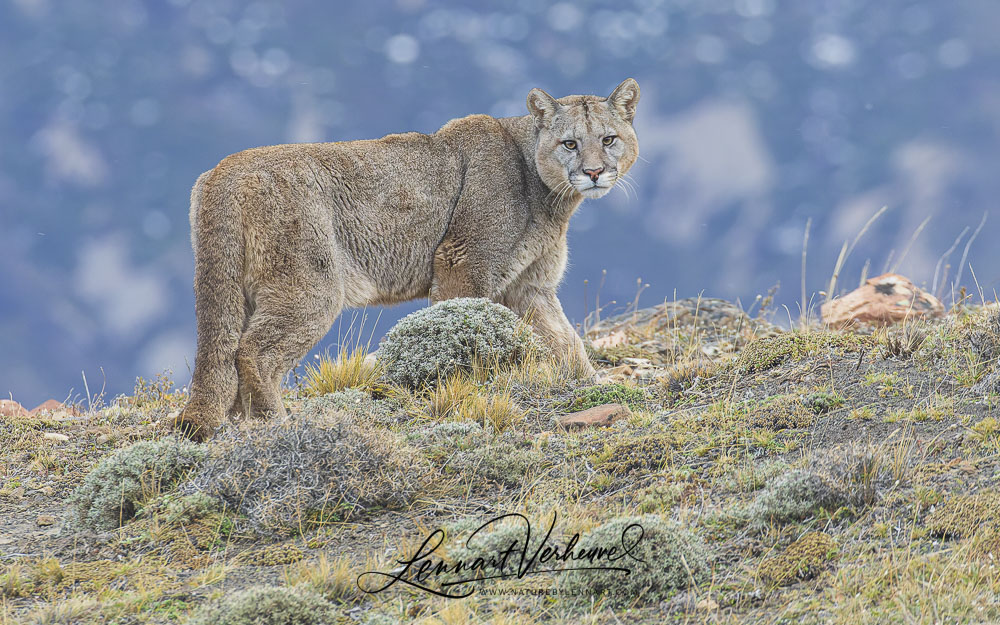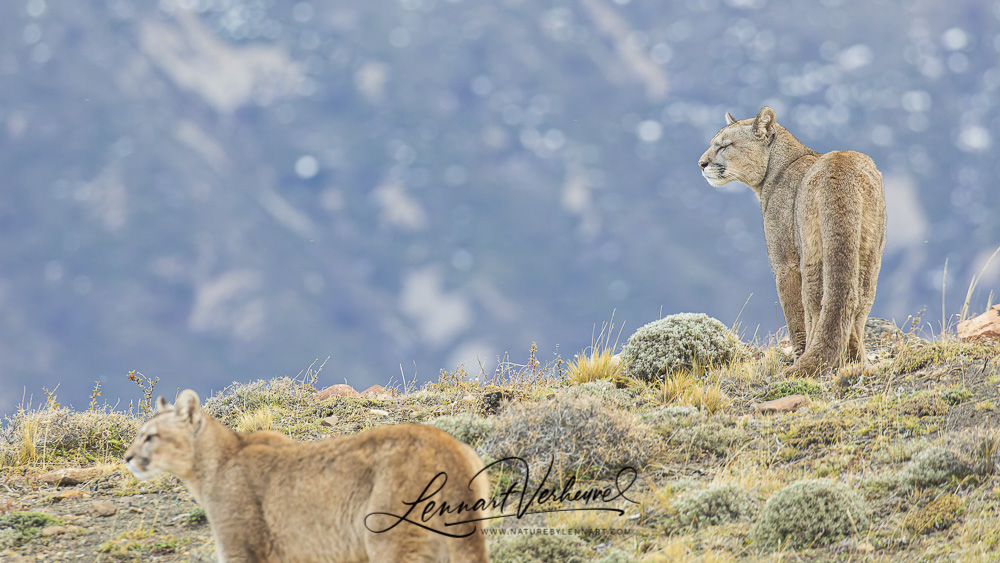 Puma's
We keep following the Puma's for a while. They are in no rush and move calmly. It's a bit surrealistic to be at ten meters of these animals that could kill us without breaking a sweat. The Puma's of Torres del Paine are known to behave themselves though and these are no different. It's just important not to move very fast and not to start running. At a certain point the Puma's move further into the park and we have to leave them alone.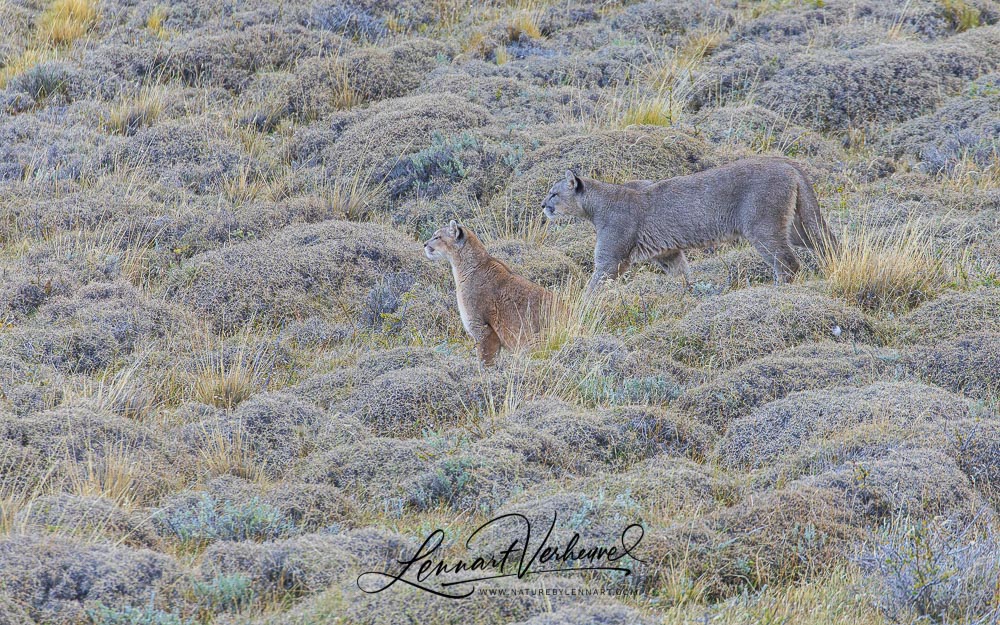 Puma's
Of course I've taken hundreds of photos, but I quickly scroll to the one moment when the three of them were together. Yes! It's there! I see that I have at least ten photos that are almost perfect, but there is one that has that perfect shot when they are all looking at me.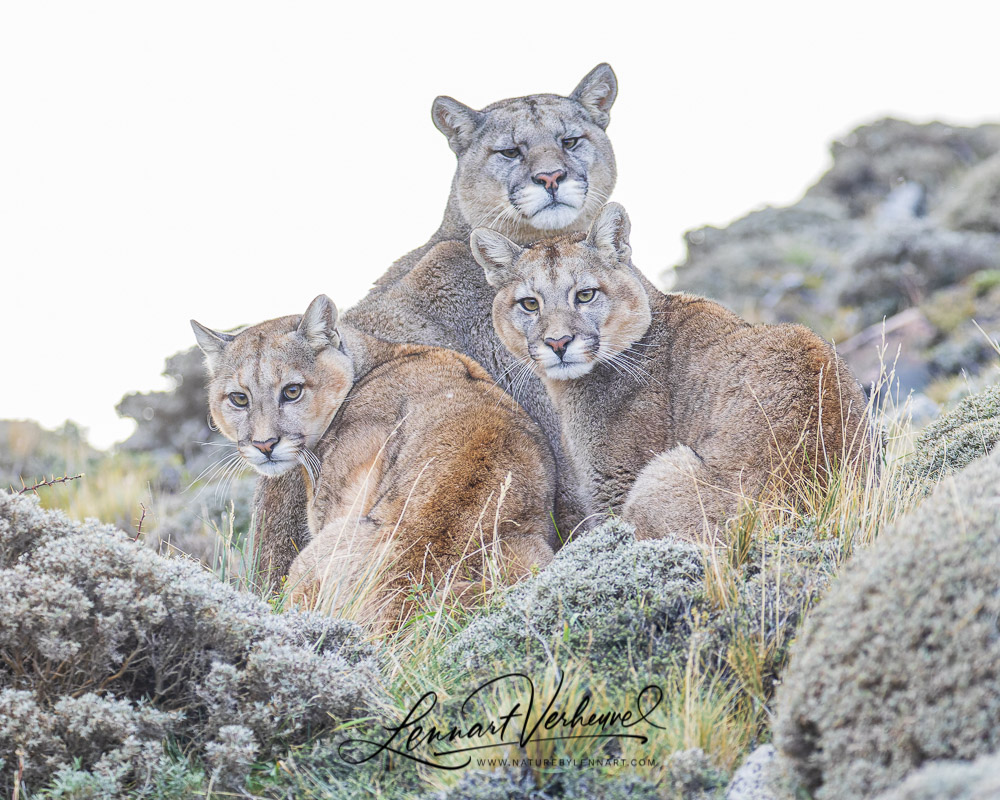 Puma's
Great! Of course the light conditions aren't perfect but what an incredible moment!
It's these kind of moments that make you appreciate your hobby again and make it worth all the effort. My trip has kicked off perfectly. In time I hope to post more stories from the trip. For now I travel with excellent 'Pumastats' to the next destination: Tierra del Fuego!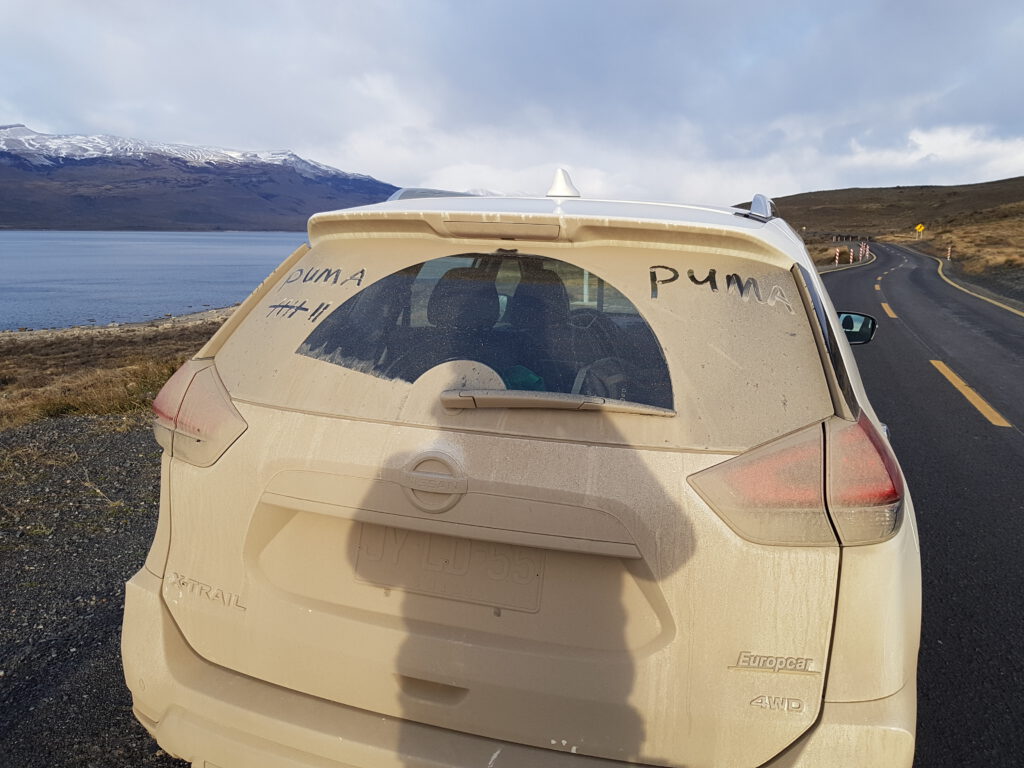 Have a look at the links below to see more from my travels through South-America:
I also met a pair of South-American Grey Foxes in Torres del Paine, click here for the pictures.
Have a look here for Giant Otters!
For the various monkeys of Tambopata see here.
Have a look here for a photo report of Barba Azul Nature Reserve: home to the critically endangered Blue-throated Macaw and so much more!
Have a look at the various attractive birds of Patagonia here.
See here for a photo report of the extraordinary Inca Tern.
In the same category have a look at the bizarre and beautiful Andean Cock-of-the-rock!
Immerse yourself in the birds of the Amazon at a clay lick.
See here more landscape pictures from beautiful Patagonia.
Read about my experience with a solar eclipse in Chile.
And have a look at the amazing starry skies of the high Andes.
See here for a trip report.